Meet Godzilla's Little Brother, the Pulsar GTi-R!

The Nissan Pulsar GTi-R, aka "Baby 'Zilla"
The Pulsar is normally a very boring, bland commuter car but Nissan decided to go racing with it and that's where the fun began. In 1991, Nissan entered it into the Group A class of the WRC, pitting it against the Subaru WRX, Mitsubishi Evo, Lancia Delta Integrale and other rally legends. Thanks to the homologation rules Nissan was required to produce 5,000 models for public sale with 500 of those being the stripped down, race-ready GTI-RB models. The remaining 4,500 cars were the very similar but more street-friendly GTI-RA models. You can tell which is which by the VIN numbers; the RA has a VIN of EBYNRVFN14xxxx and the RB has a VIN of EBYNRRFN14xxxx.
Between August of 1990 and November of 1994, about 12,000-15,000 GTi-R's were made in total. The most were made in 1990 (good news for US buyers!). In 1992 Nissan changed some of the interior trim from pieces specific to the GTi-R to ones found across the Pulsar range, but otherwise the car remained unchanged throughout its run. Some ways you can tell an early from a late model include the Prince logo on the grill, a red GTi-R badge on the steering wheel and hollow (instead of solid) headrests. The model changes are purely cosmetic, so you can be assured that no matter what year Pulsar GTi-R you buy, you're still going to get the same killer performance.
So what makes the GTi-R so awesome?
Simple, Nissan raided the parts bin. They took the motor from an S13 Silvia (an SR20, aka "red top", with a big intercooler stuck on top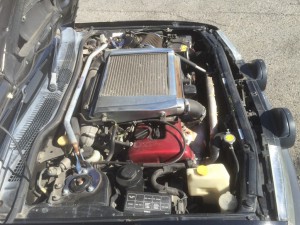 ) and the all-wheel drive system from the R32 Skyline GTS-4 and stuck it in a package with a curb weight of only 1220kg (1190kg for the RB models). This gave it a 0-100km/h time of under 5 seconds, a 232km/h top speed and a standing quarter mile time of 13 seconds. Nissan didn't forget this was a road car though and added power windows, power locks, ABS, fully independent suspension and four-wheel disc brakes so not only does this little hot hatch scream, but it's very nice to drive on a daily basis. With it's 2 liter motor, it's not bad on fuel either (if you can leave your foot out of it!). No other hatches on the market today can compete with a Pulsar GTi-R's power to weight ratio, and a stock Pulsar GTi-R will have no problems flying past a VW Golf R32, Audi S3 or Honda Civic Type R.
Ok I want one, now what?
Prices are still reasonable as most people are still focused on the Skylines but as they become more rare and more expensive, the prices of good GTi-Rs will start to climb. Look for low mileage and mostly stock examples, as a heavily modified car can wear out the clutch quicker and clutch replacement is an engine-out job. The wheel arches are prone to rust, though the rest of the car has few weak points. The engines and transmissions are strong and it's not uncommon to see someone who has cranked up the boost a little, bringing horsepower from 227 to around 260. OEM parts are easily found and there are many aftermarket parts as well.
At JDM-Expo, we have a number of really nice, clean Pulsar GTi-Rs available for immediate purchase. Click the images below to see the cars that are currently available.